Are You The One? Season 8 Discussion (Episode 5)
WARNING: There will probably be keyboard smashes throughout this article because this dang episode made me see clearly, but those clouds didn't stay gone for long. I am CONFUSED. With that said, let's move into the discussion.
This episode of Are You The One? was messier than my love life and that is saying something. First, they had to hit us with Nour and Amber which I thought was over. I was all for them at the beginning, but I quickly changed my mind. I wouldn't be shocked if they're a match because they obviously have a connection, but I also don't believe they are a match. They are on a rollercoaster for sure. They just need to explore others in the house. Stop flip flopping!
Messy relationships are the norm for this show so when I see an amazing friendship, it makes me happy. Jenna and Danny is that friendship. They bring out the best in each other, and when I see them together, I always smile. That being said, I am happy they are not a match. I just don't see it. This was an intense truth booth though because they needed it to be a match. The fact that they still don't have a confirmed match after the four truth booth scares me. I am sure it scared them too. I still think they need to throw either Kari and Kylie or Max and Justin in the truth booth. Since I am sure Kari and Kylie is a match, I would throw them in first, and Max and Justin can be next to give A LOT of answers no matter the outcome. That would be an insane truth booth!
While we are on the subject of Max and Justin. I just want to say that this episode was heart wrenching for me to see. They just went through so much in this episode. I am almost doubting if they are a perfect match, but just seeing how they bounced back after the insanity between them makes me think they might be. I don't know. I really think they might be a match, but I also see potential in them being the next Cali and Tomas. They might not be a match, but I think they might still date outside of the house.
The challenge for this episode was actually fun and creative. I liked it, but I wish Max and Justin would have teamed up!!! At least Max and Justin used this challenge to communicate with each other, and it definitely helped them. It still cracks me up seeing how off Aasha was with Justin's emojis. Coming out of the closet??? He is out honey… You have no connection with him…
By the way, I just don't like Aasha in the show. I specify "in the show" due to how different they act in the house. I am sure she is a good person. This house makes you act wild sometimes so I don't blame her. I am still mad for what she is doing, but I can not blame her. Justin is very good looking…
Now let's talk about this fivesome… WHY KYLIE??? WHYYYY. I am not mad at her or even disappointed, but she definitely should've thought about it a bit more. Not her greatest decision. Kari is just so amazing and loyal, and even though I believe Kylie can be those things to Kari, she has already done two things that contradicts that. I am still confident that they are a match, but Kylie needs to be careful.
I honestly don't want to talk about Kai and Jenna. I don't want to anger anyone, but that relationship is messier than my room. Just stop screwing up everything. This is way passed ruining the game. It is about ruining their mental state. The toxicity is running through their veins, and toxicity is never a good thing. I really hope this Jasmine and Kai thing helps them separate. I don't think Jasmine and Kai are a match, but it just makes me happy that they have a chance to move on.
Before I go into my predictions, I want to express how disappointed I am in their progress. No confirmed matches and they got one beam for the first time. It has been two every time before this episode. I understand how hard this is with anyone being anyone's match, but they need to step it up. Like c'mon!!!!
My Predictions Before Episode 5
Paige & Amber
Kylie & Kari
Max & Justin
Brandon & Aasha
Danny & Jonathan
Nour & Jenna
Remy & Basit
Jasmine & Kai
My Predictions After Episode 5
Kylie & Kari – These are a perfect match. After tonight, it is practically confirmed that they are a match. I had a sneaking suspicion that they were one of the beams in the previous match-up ceremonies. Since there was only one beam in this episode when they didn't sit together. that almost confirms my sneaking suspicion.
Justin & Max – I don't want to give up on this couple, but I am starting to realize they might become the Cali and Tomas of this season… Although, I don't have time at the moment to rethink everything. With that said, expect a big change in my predictions next week unless Max and Justin are confirmed a match next week. Maybe they are… I might be surprised. I really hope so. I don't want to give up on them yet.
Remy & Basit – Am I confident in these two? Not really, but look at the perfect matches from previous seasons. Asia and Tomas from last season… What? I am trying to think outside of the box with my predictions this week. I am also bringing one in here that I have been confident in for a while now… Look at the next one.
Paige & Danny – I am confident in these two even though it doesn't seem like they have explored a relationship between each other. Although, I have noticed they hang out a lot. It seemed like Danny borrowed a dress of Paige's for the Queer Prom. That might be due to their similar physique, but I see something between them two. Just wait…
Brandon & Aasha – Brandon is too pure for Aasha, but I still think they could be a match. I just don't want Aasha to hurt Brandon… He is just an amazing guyyy.
Jasmine & Nour – Well… this is random. No reason for pairing them together. Moving on now.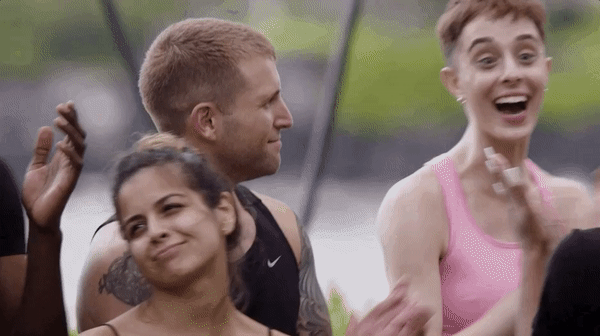 Jonathan & Kai – Same as the match before. I just threw these two together because they haven't explored each other yet.
Jenna & Amber – I actually think this is a possibility, but if I am being honest, they were just the last two remaining.
Writer: Noah Purser
Bio: Hey! My name is Noah Purser and I'm freshly out of high school and will be going to college soon. I really wanted to do something with my passion for writing, film and other things in that spectrum. My itch for sharing that with others turned into a rash so I had to do something about it. So I'm here! I hope you enjoy what I have to say, but if you don't… meh.
Snapchat: nbama
Are You The One? Are You The One? Discussion AYTO LGBTQ lgbtq+ Uncategorized Are You The One? AYTO bi drama Gay LGBT LGBTQ rant reality reality television trans
I'm just a dood tryna figure myself out. I write about shows, movies, the LGBTQ+ community, Pop Culture, and my original fiction work!!