Why Andi Mack Season 3 Shouldn't Be the End of These Characters
WARNING: There are spoilers for the show including the finale!
Like many of you, I just said goodbye to such a phenomenal show on Disney channel, but that doesn't mean I am going to say goodbye without a fight. Andi Mack is a show on Disney Channel which has inspired so many people during its run. Since Andi Mack is advertised for children, most people would not think that it would show everything that it shows. Though that is not a good mindset to have, that is sadly how it has been. There is very little representation with Asian families and LGBTQ+ characters in Disney Channel programs. That has changed with Andi Mack.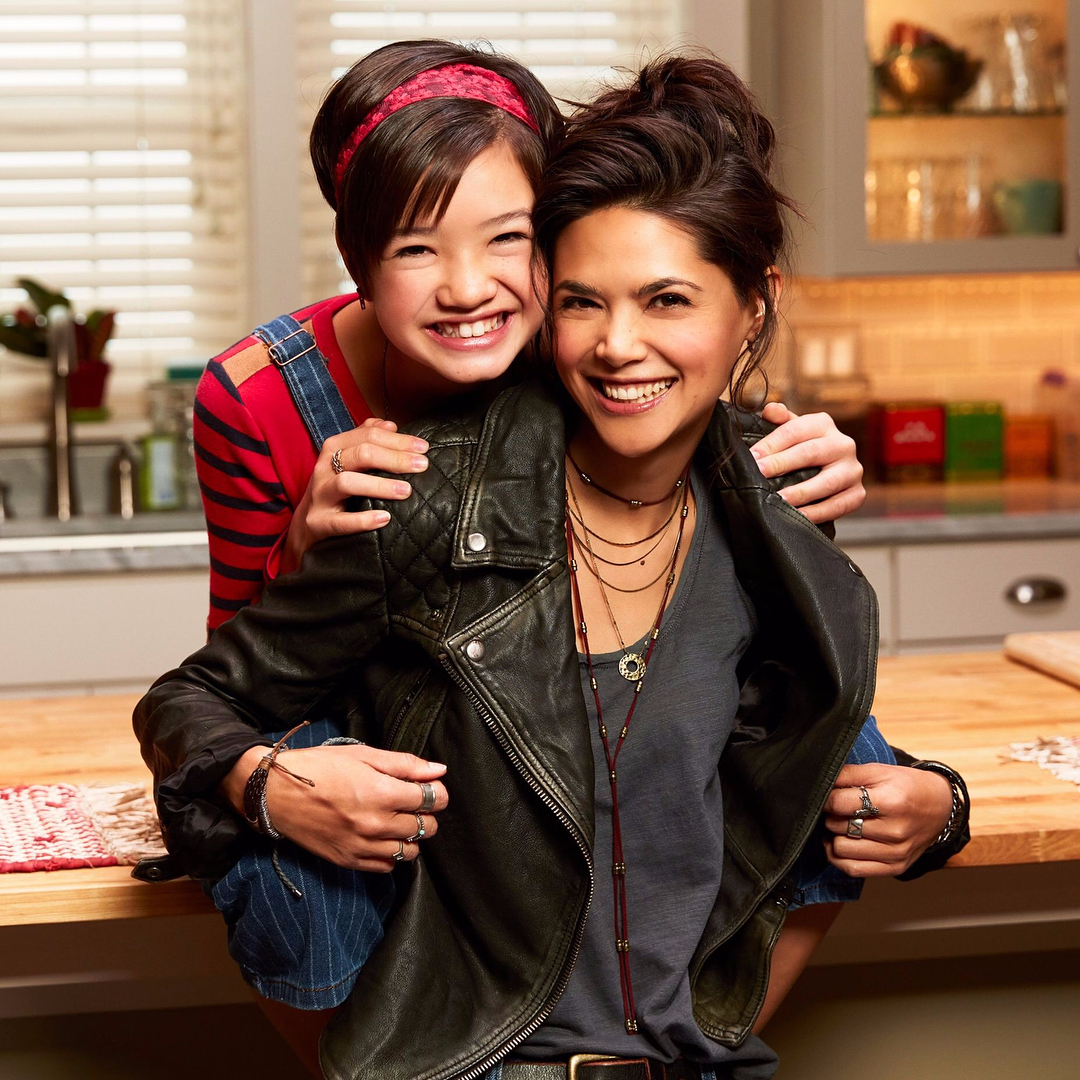 The show started out with Asian representation, and it also showed teen pregnancy as the main plot for the season! That is a big deal because that is usually looked down upon. Disney managed to show it as something to be thankful for. Andi discovered that her sister, Bex, is actually her mother in the first episode. Throughout the three seasons, their relationship grows into something beautiful. They show an amazing mother-daughter relationship despite Bex being a teen when she had Andi. That doesn't matter in their relationship because Bex is still Andi's mom. Peyton Elizabeth Lee who plays Andi does an amazing job at showing the emotions through this relationship with Lilan Bowden as Bex. Their relationship reached its peak when Bex finally marries Andi's dad at the end of season 3. I loved that it showed teen pregnancy doesn't always lead to a whole life of hurt and disappointment. Bex, Bowie (Trent Garrett), and Andi is a great example of an amazing family no matter their race or how they came to be.
Speaking of different types of families, Sofia Wylie's character, Buffy, deals with the toll of having a parent in the military. Though this is something that appeals to the audience that is hesitant of other things mentioned in the show, it is still important to showcase on Disney Channel.
I think the most notable and important plot point in the show is Cyrus' sexuality. Cyrus is And's best friend, and throughout the show, you see his growth as he comes out to his friends and falls for other guys. Joshua Rush does a phenomenal job as this incredible character. There is a lot of pressure when playing a character like Cyrus so I am impressed. Though his story had an amazing ending, there is so much to show. During the series finale, the relationship between Cyrus and his friend, TJ, finally becomes something more. The flirtatious tension between the two was finally revealed as a setup for their relationship. Although, this "relationship" is only confirmed with eye-flirting and a quick handhold. I know this is important for it to be shown, but I feel like Disney is only going so far to avoid more controversy. Ending the show immediately after they become official means they don't have to explore anything else between them two like dates and a kiss. If any of that was shown on Disney Channel, Facebook is sure to blow up with middle-aged parents boycotting Disney. I believe they're ending Andi Mack to avoid that. I am happy we have two LGBTQ+ characters in a Disney Channel show, but I just wish they would do more than a scene or two every 6 episodes.
Speaking of TJ, I want to know more about him and who he is. Luke Mullen as TJ was only a recurring cast member so we didn't see much of him. I would love to see more of him as he becomes who he is, We saw Cyrus' journey, but our knowledge on TJ's sexuality is very minimal. I would love to see a spin-off series with TJ and Cyrus as they grow into a relationship.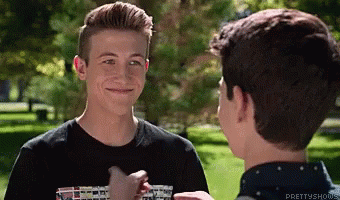 In recent years, the conversation surrounding mental health has became more mainstream which is amazing. In Andi Mack, they take part in that conversation with Jonah who is played by Asher Angel. There are several panic attacks shown with this character touching on how difficult anxiety can be. This needs to be explored more because they have the power to show children whose parents shelter them from mental health. There are so much more to show. These children need to see as much as possible so they know when they are experiencing something similar. I loved what they did with Jonah's character with mental health, but he shined in something else as well.
Disney Channel often portrays their character as well-off individuals with a good bit of money in their name or their parents' names. With Jonah, they showed the struggle of money. Not everyone has the pleasure of financial success. I loved that it showed it affected Jonah as he realized money is hard to come by sometimes.
As you can see, This show is groundbreaking. I barely scratched the surface with all that is showcased in this amazing series. Although, there is so much more to show. They all have a story to continue. With Andi going to art school, she will meet new people and new challenges. As Cyrus and TJ grow together, they will face decisions they don't want to make. With Buffy and Marty pursuing a relationship again, they will run into familiar and new issues. Finally, Bex and Bowie are newly-weds! let's explore all this in some way!! Below are 5 ways they can continue these stories.
Season 4
This is an obvious choice, but I don't think it is likely. They cancelled the show for a reason. Unless the fans are really convincing, I think one of the other choices are more likely.
Spin-Off Series About Andi's New School
At the surface, this one seems the most likely to happen. I thought the same thing to begin with. Although, it'll most likely give us a bit of deja vu. Disney's show, A.N.T. Farm, had a similar premise when it premiered back in 2011. They probably will not want to repeat what they've already done. Although, Disney Channel doesn't always make the greatest creative decisions so we will see. They may be able to do something different with it.
Spin-Off Series About Cyrus and TJ
I want this to happen! I really would love to see a Disney show starring two LGBTQ+ characters. but this is very unlikely. Like I said before, Disney doesn't want more controversy. Disney is going to play it safe, and this is not safe.
Sell Off the Rights to a Different Network
I could see this happening. Andi Mack is such a goldmine for Netflix which they desperately need right now. Although, Netflix and Disney is currently at war. That is the movie division though so maybe it will happen. Other networks may pick up Andi Mack though. We will just have to see.
A Movie
This is the one that I think is the most likely. This seems like a safe move for Disney. They can show enough Tyrus footage to make everyone happy, but they will also balance it with other things. I think they could do a movie about the final weeks before Andi goes to SAVA. They could go on a little adventure before everything changes. They could go camping. I could see that. It is a very Disney thing to do. It is likely that TJ will stand on the sidelines for the camping though as he is not officially in the group. Maybe he could be added to it, but Disney will probably play it safe. TJ and Cyrus will have a sweet goodbye at the beginning. TJ might be shown in the middle of the movie worried about Cyrus as the climax of the film comes upon them with a cute reunion at the end of the movie. He could throw a welcome home party for Cyrus and his friends. That would be so cute. I would be okay with that.
disney Film Frenzy inspirational LGBTQ lgbtq+ menta health Uncategorized andi mack andimackwashere disney disney channel Gay inspiration inspirational inspiring LGBT LGBTQ mental health renewandimack representation saveandimack uncancelandimack
I'm just a dood tryna figure myself out. I write about shows, movies, the LGBTQ+ community, Pop Culture, and my original fiction work!!